What is Tour De 100?
BERGAMONT Tour De 100 is a global 5-stage cycling challenge spread over a period of 100 days. Each stage is 20 days long and has multiple challenges which you are required to complete. As you complete the challenges, you earn points, which take you higher in the event leaderboard comprising cyclists from all around the world.
At the end of 100 days, all participants will be ranked on the basis of the points earned completing the challenges, and will be awarded appropriate finisher medals as per the finish level.
The 2nd edition of the event starts Oct 19th, 2020. Join now and #EXPLOREYOURLIMITS.
Current Registration Status
4900 PARTICIPANTS REGISTERED
How To Participate
Taking part in Tour De 100 is simple. You register for this virtual event online, submit your ride data by logging on to the website (or enable auto Strava import), and watch your progress on the event leader-board and reports as you ride through the 5 stages or mini-tours designed with multiple challenges, each challenge awarding you certain points. That's it!
The Tour Stages
Tour De 100 is divided into 5 stages. Each stage presents multiple challenges, with points being awarded for successful completion of each challenge. As you complete each challenge, you will rise in the event leaderboard and rankings.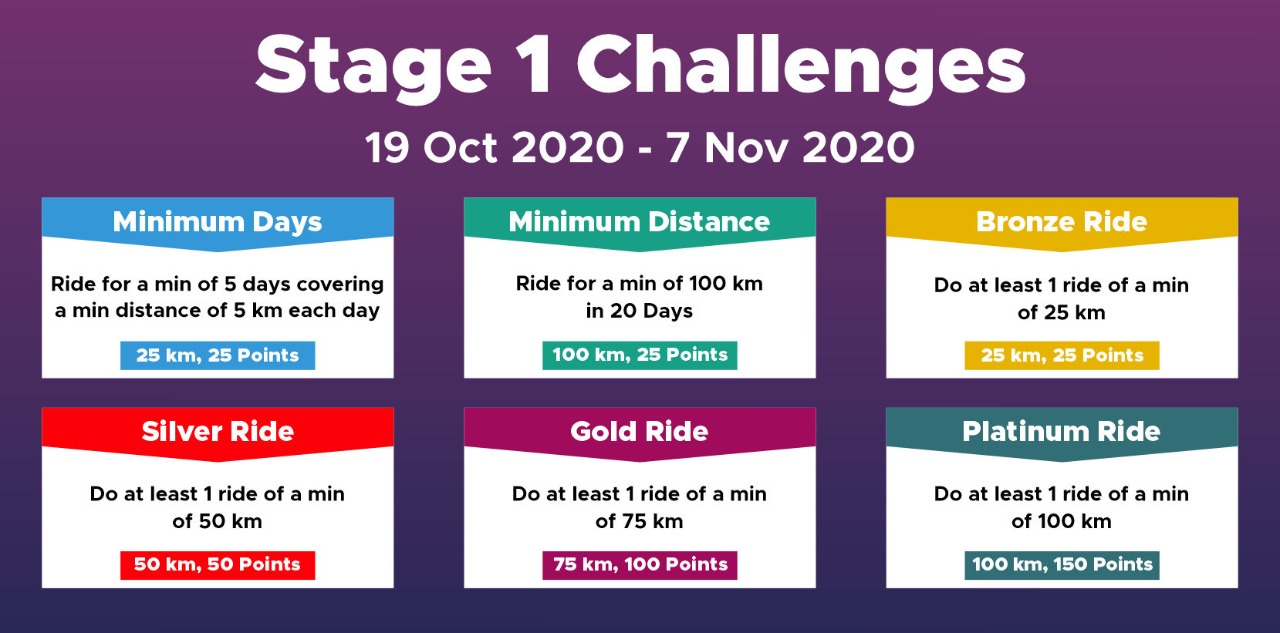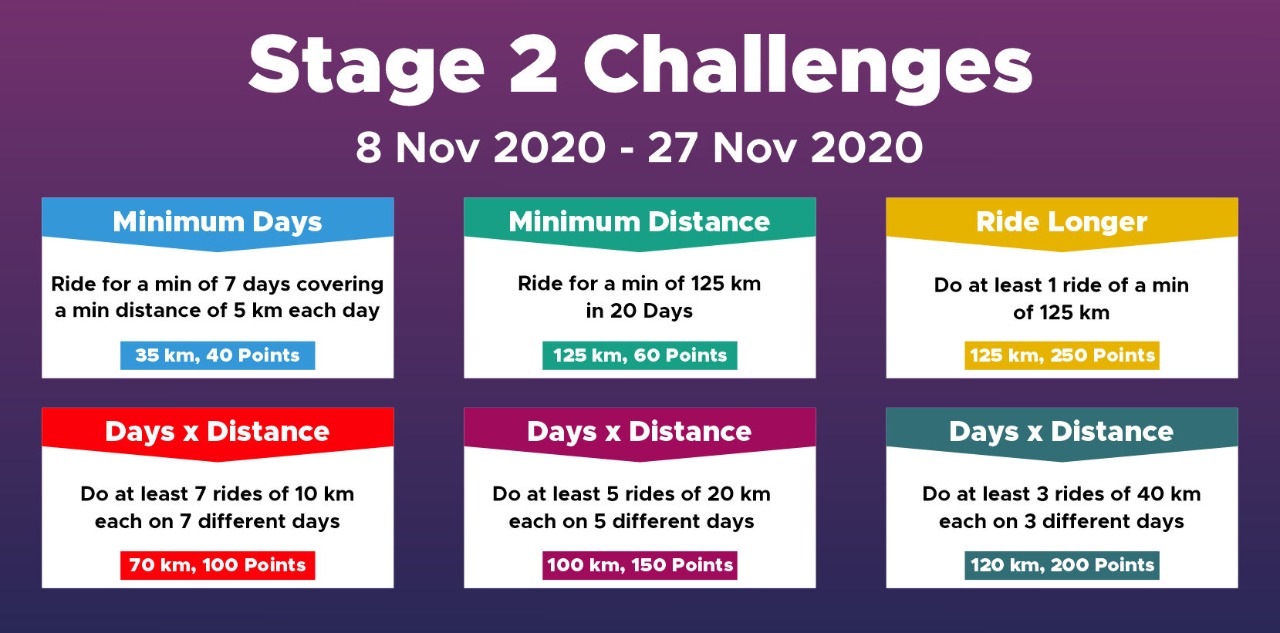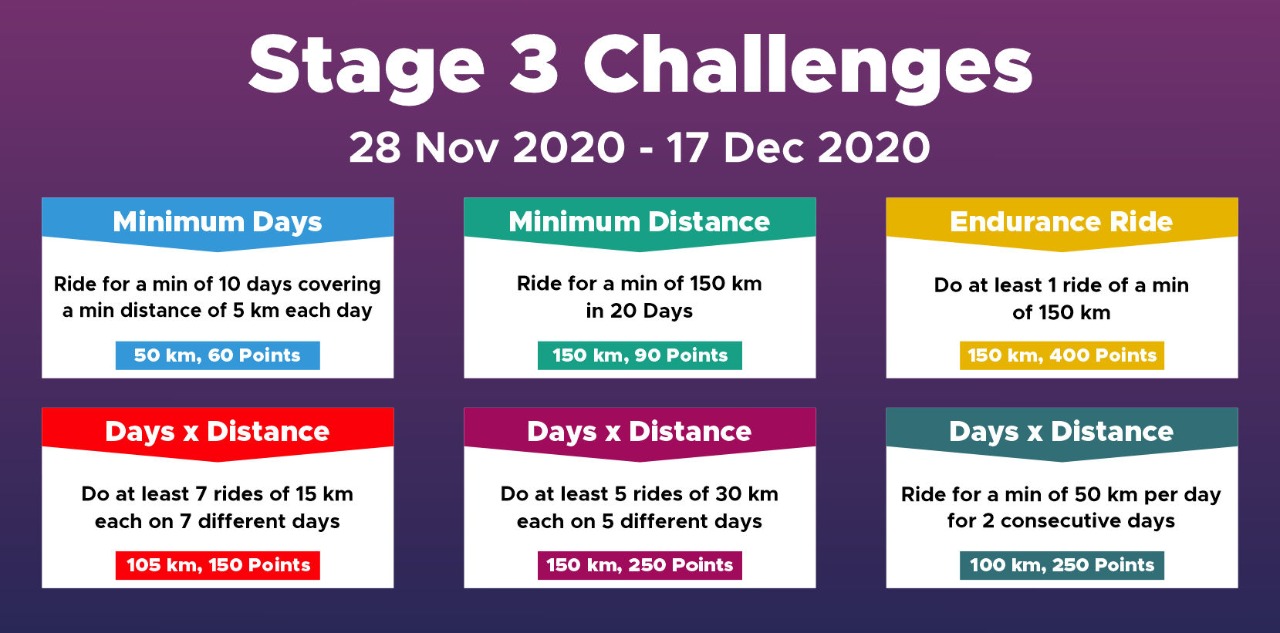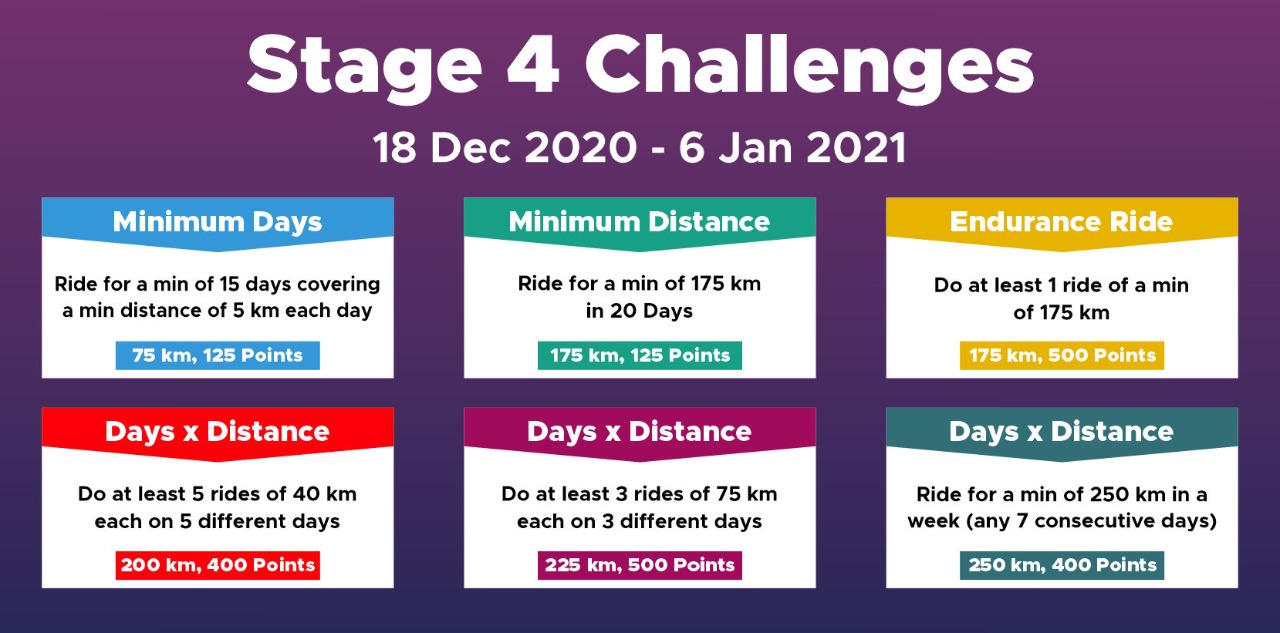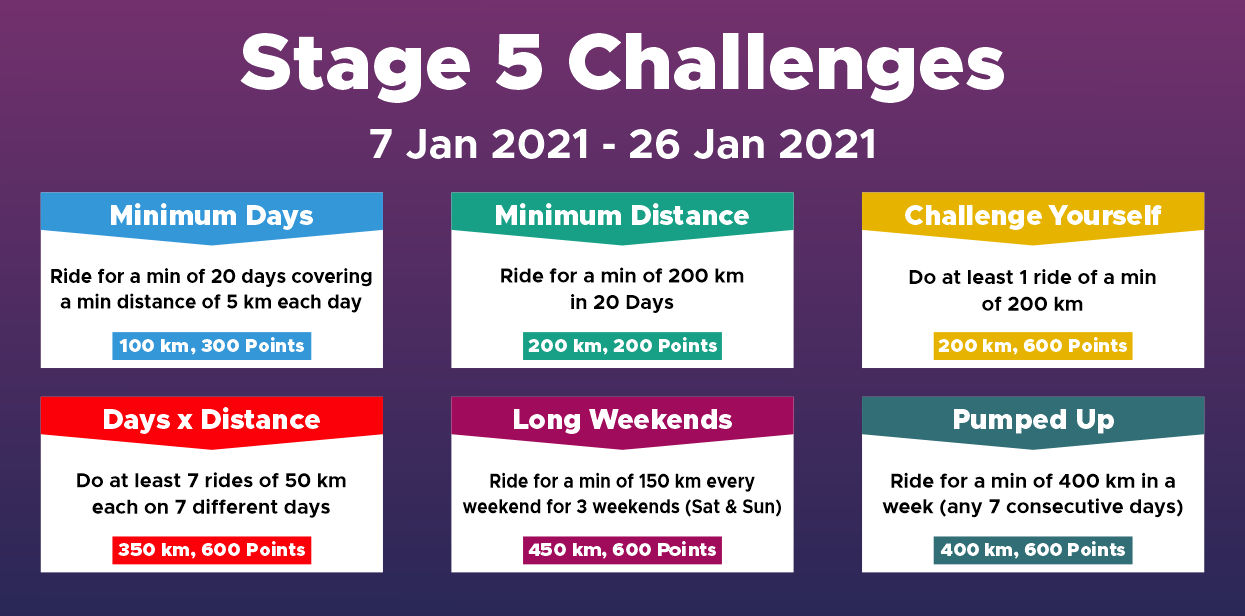 * Additionally, earn 1 point for every km cycled for the stage.
** No extra points for doing any stage challenge multiple times, other than 1 point for every km.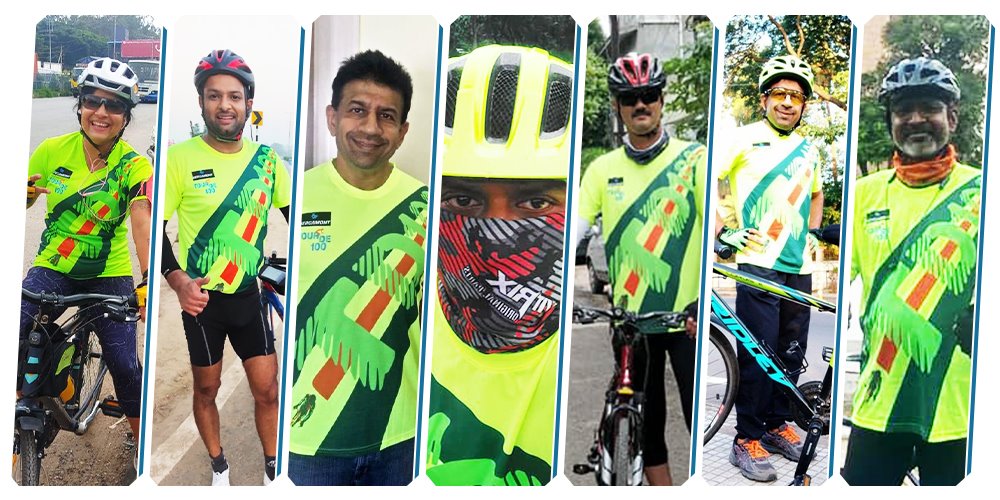 Finisher Classification
| Finisher Level | Qualification |
| --- | --- |
| Diamond level finisher | 15000 points & all 30 challenges |
| Platinum level finisher | 10000 points & 25 challenges |
| Gold level finisher | 7500 points |
| Silver level finisher | 5000 points |
| Bronze level finisher | 3000 points |
| Iron level finisher | 1500 points |
* To qualify as an event finisher and earn your finisher medal, participants need to achieve at least the Iron finisher level, i.e. earn a minimum of 1500 points.
Event Timelines
| Activity | Date |
| --- | --- |
| Early bird registrations close | Aug 31st, 2020 |
| Registrations close | Oct 18th, 2020 |
| Event ride window | Oct 19th, 2020 – Jan 26th, 2021 |
| Participant t-shirt dispatch complete (for those registering by Oct 1st) | Oct 10th, 2020 |
| Last ride data submission | Jan 28th, 2021 |
| Provisional results published | Feb 1st, 2021 |
| Final results published | Feb 5th, 2021 |
| Finisher certificate available for download | Feb 5th, 2021 |
| Finisher medal dispatch complete | Feb 28th, 2021 |